Get £10 off your first subscription by subscribing below (limited time offer!)
The Best

Way to Puzzle
The easiest way to experience fun, new, and challenging jigsaw puzzles. Select your package and receive unique puzzles picked for you
More

We Time

, Less Screen Time
We make puzzling more fun, hassle free and enjoyable. Renting is easy, sustainable and hygienic. Puzzles are professionally sanitised.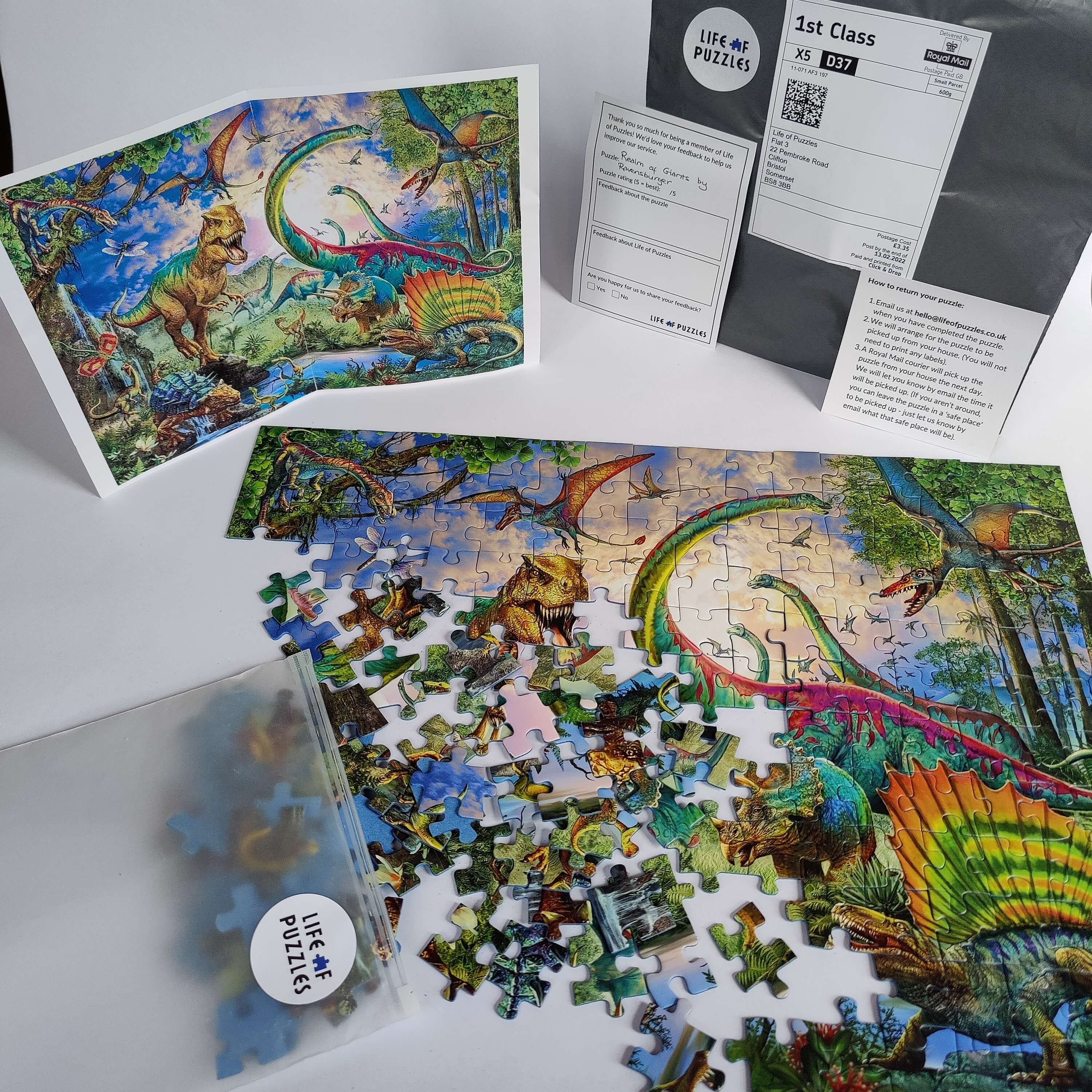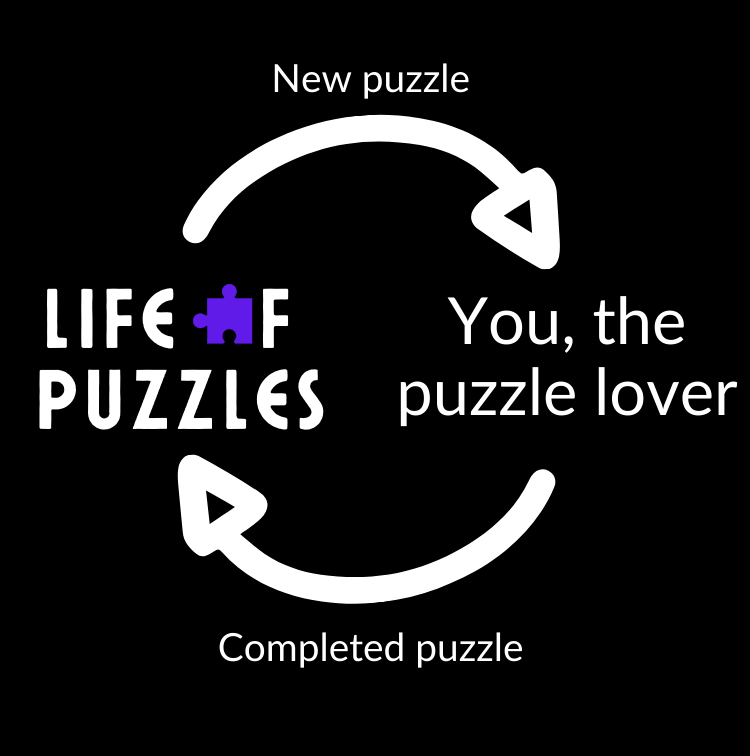 🧩Unlimited puzzles
🏠Delivered to your door
📦Collected from your door
🛑Stop puzzle clutter
📬Rent and return
🤗Great for families or by yourself
🧠Improve focus and memory
🌍Better for the planet
Explore the Largest Catalog of Rentable Puzzles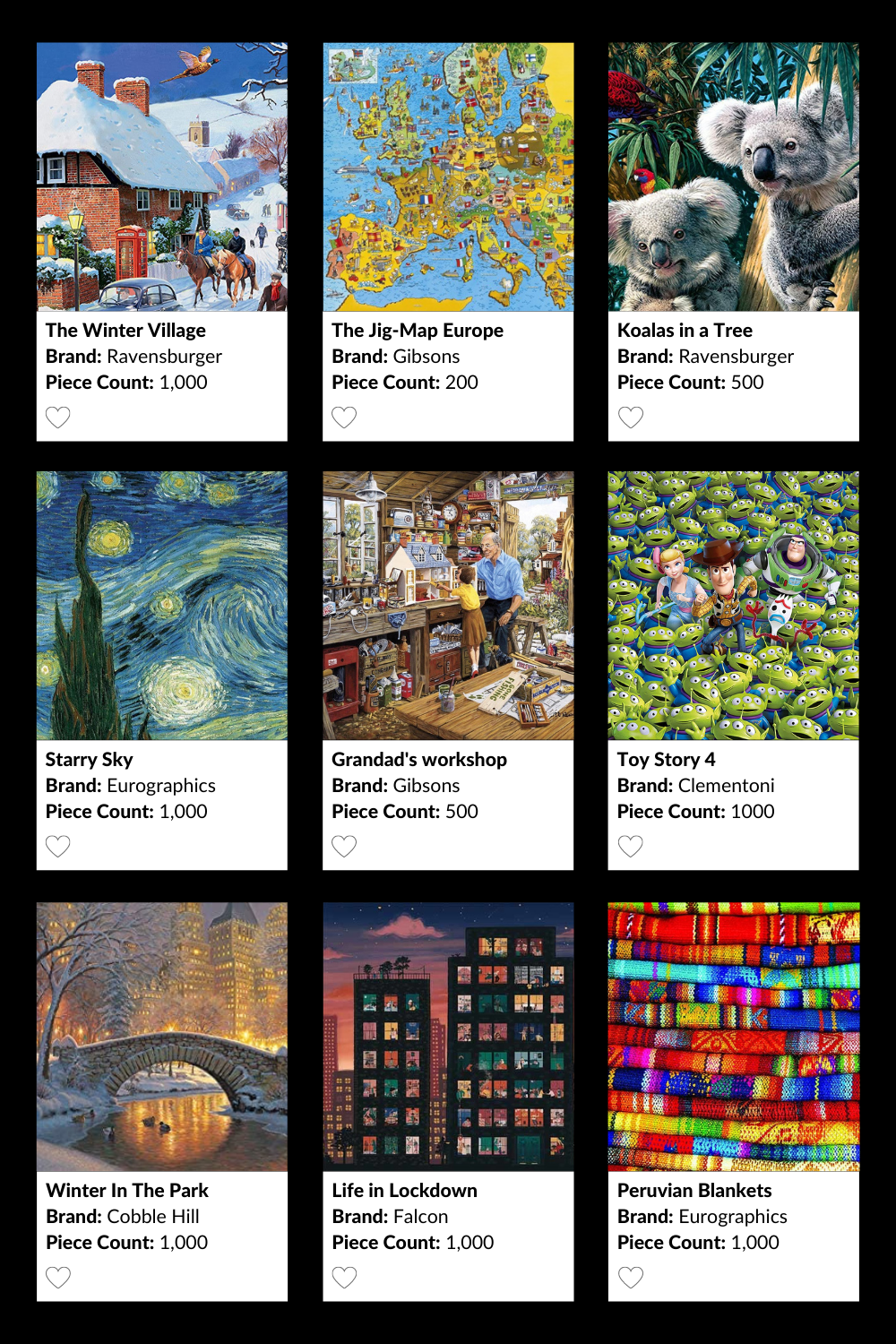 ‍You get instant access to over 1,000 puzzles across the best brands. New puzzles are added weekly!
Puzzles You Love, Guaranteed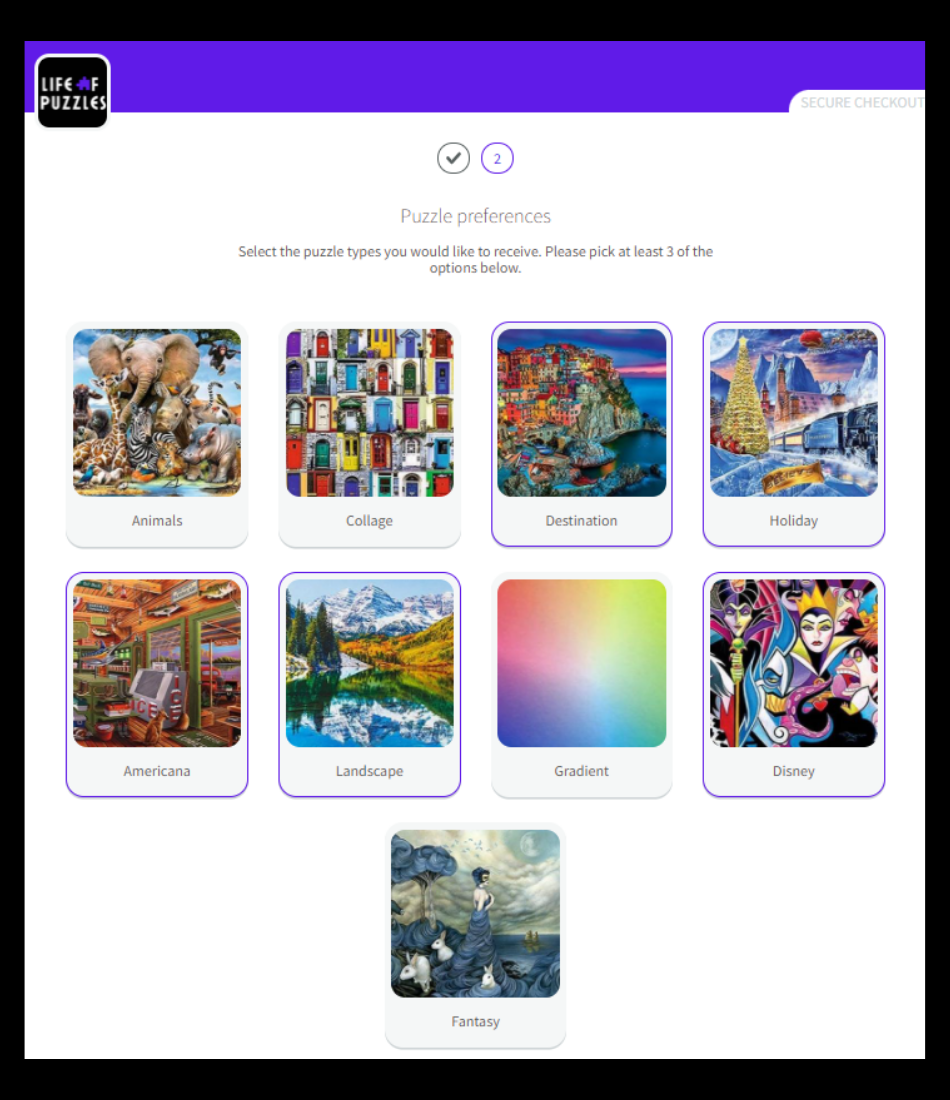 You'll think it's Christmas everytime you receive a puzzle package. Take our quiz and set your wishlist, we'll send you puzzles you're guaranteed to love.
Premium Puzzle Experience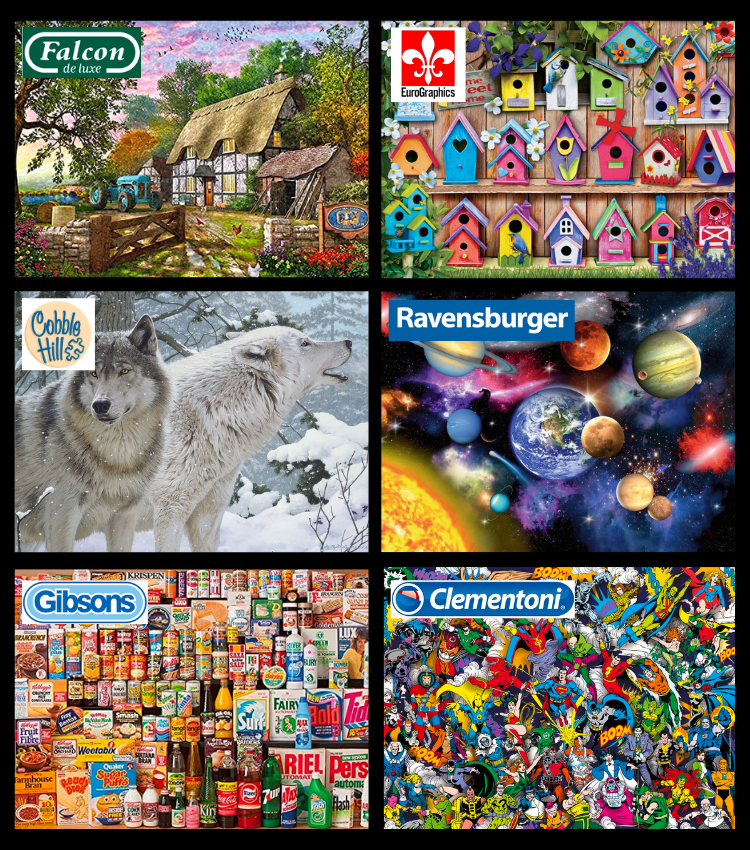 No pound store puzzles here. Every piece gives you that satisfying snap and the pictures are awesome.
We carry only the very best brands such as Falcon, Eurographics, Cobble Hill, Ravensburger and Gibsons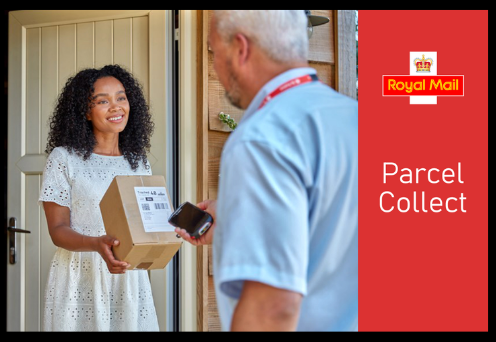 Returns are easy, everything you need is included. When you solve the puzzle, simply email us and we'll arrange for Royal Mail to pick the puzzle up from your house. They'll bring the label too, so you won't need a printer.
 Maximum fun, minimum hassle.
How it works
We make puzzling easy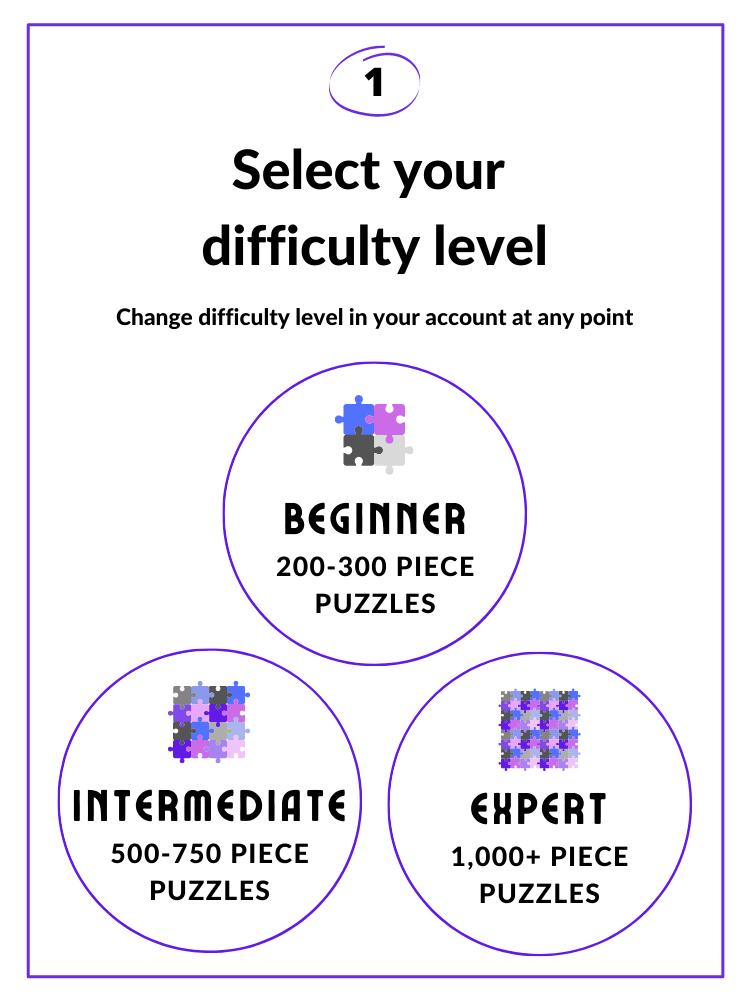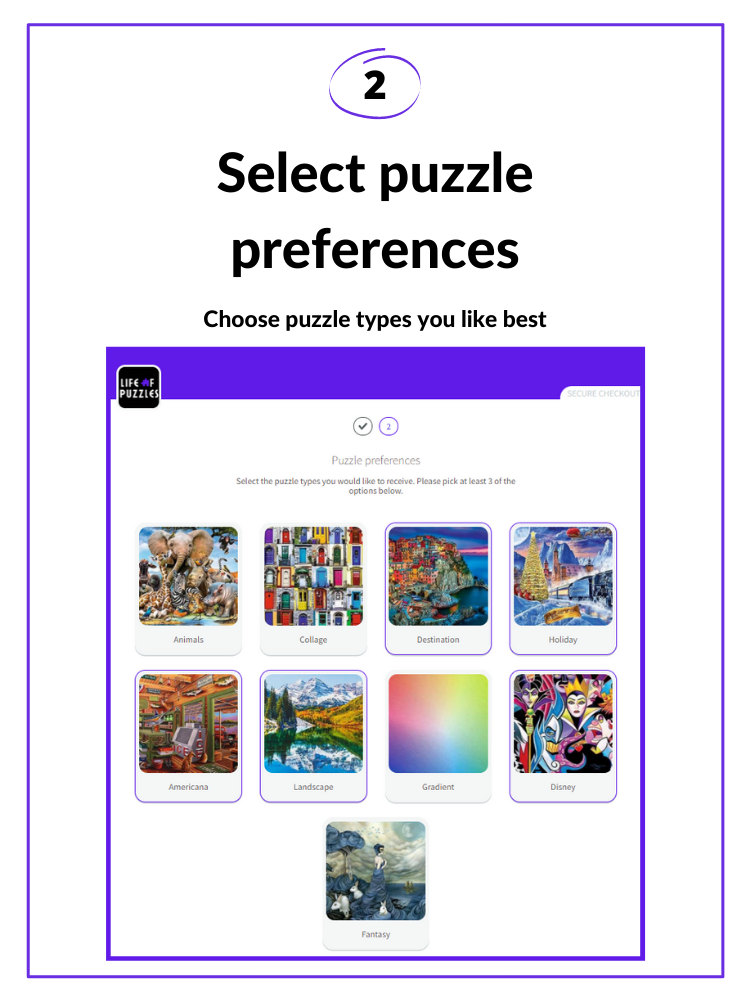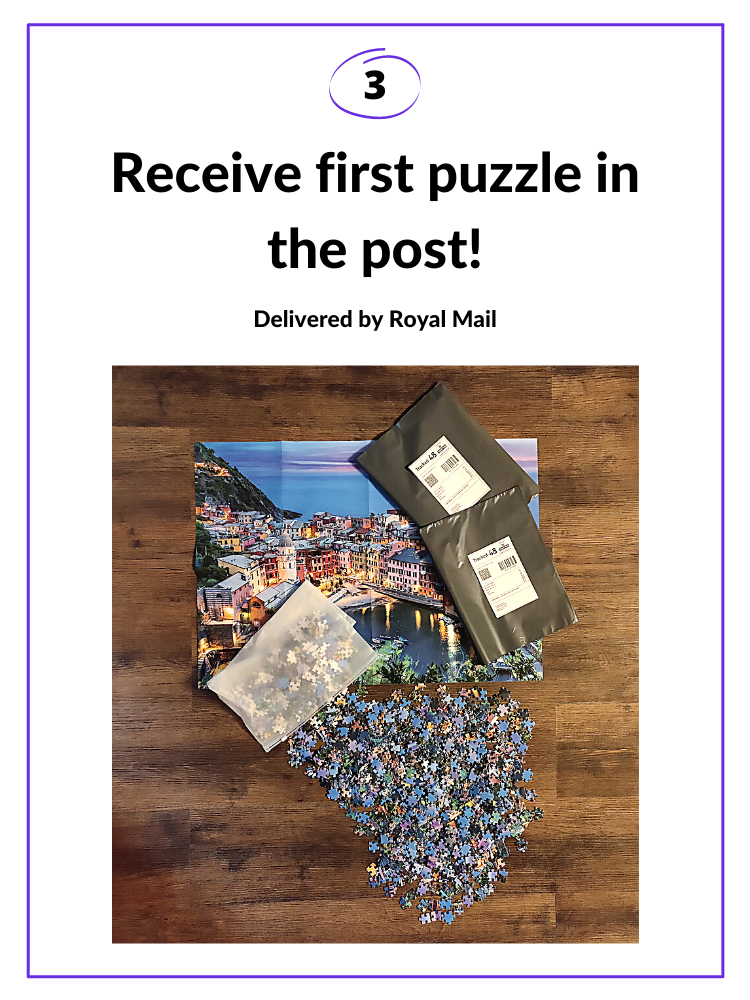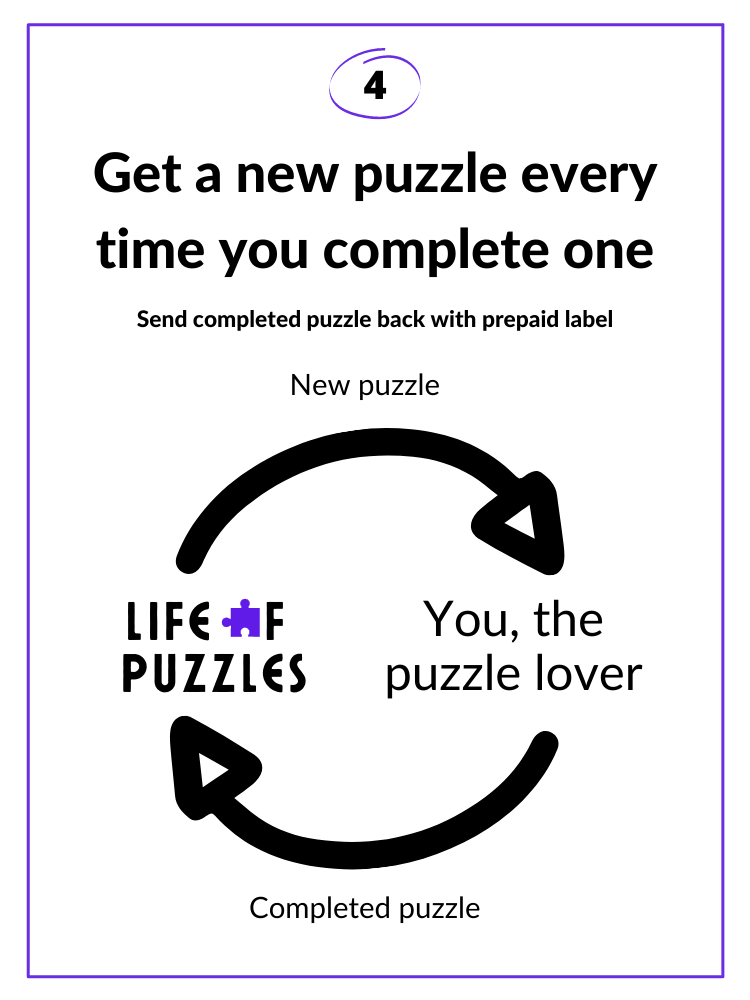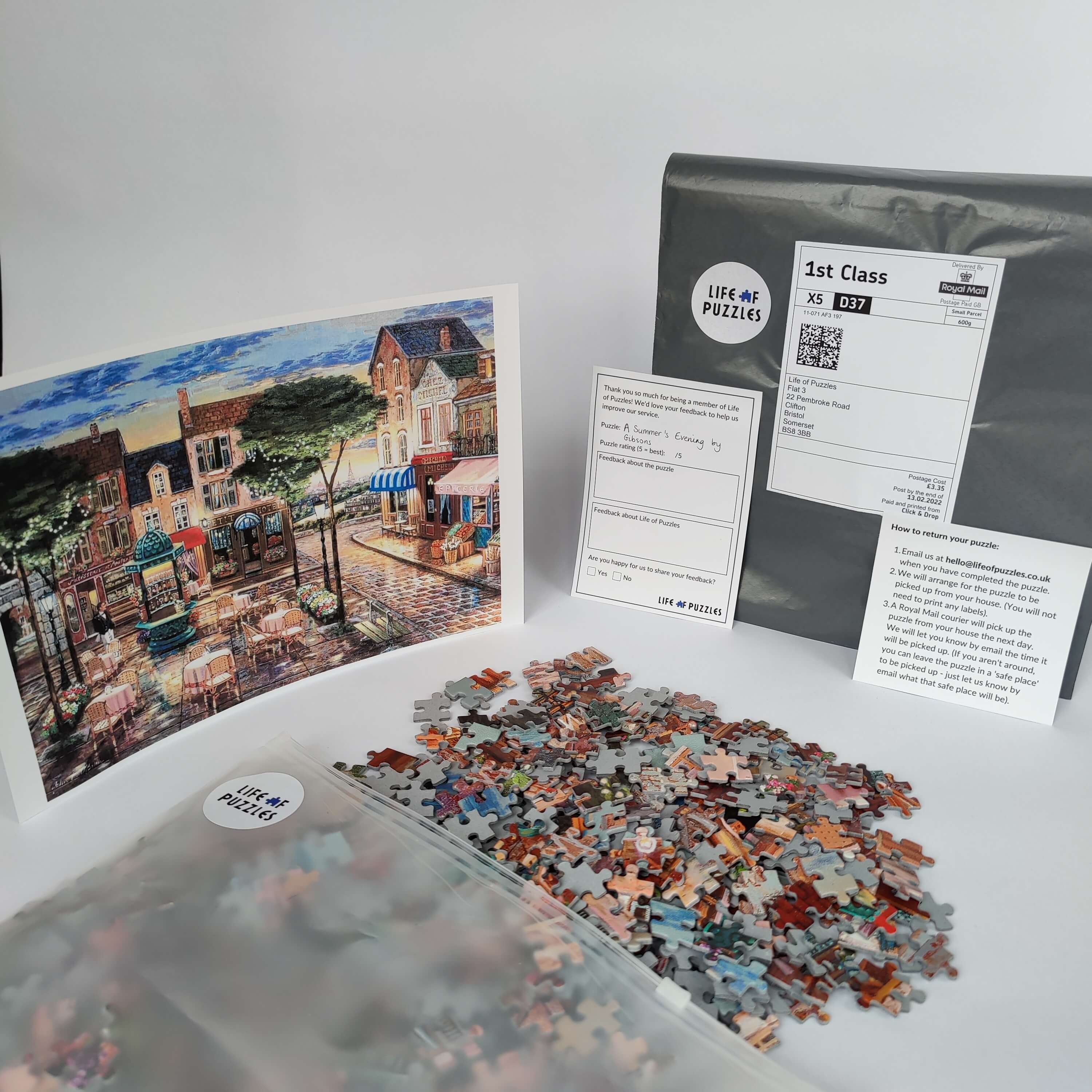 Everything you need for hassle-free, puzzling fun:
A premium puzzle based on your preferences

Photo to help you complete the puzzle

Return shipping bag
Collections are arranged from your house at a time that is convenient for you. You don't need to print any label. Simply hand the packed puzzle to the postman!
How much does this cost?
There are multiple options for subscription. Click on 'Get Started' to see these options.

You can cancel at anytime. Fair warning... puzzling is addicting! Once you start, you'll quickly find yourself connecting "one more piece" just before bedtime.
How are the puzzles cleaned?
We have a proprietary system that uses a series of fans, UVA light and a MERV13 filter to remove contaminates and sanitize everything.
How many puzzles do you have?
100s across different premium puzzle brands. We keep track of every order to make sure you get a new, surprising puzzle every time.
Can I change my subscription after I start?
You can change your membership to get harder or easier puzzles anytime. Log into your account and change your subscription whenever you want.
How quickly do you ship?
We ship and return with Royal Mail. Each new order is shipped out within 1 working day. Extra Lite and Lite options are shipped by standard postage, whilst Puzzler and Pro Puzzler are shipped by express postage.
How do collections work?
Once you've completed your puzzle, email us to let us know. We will then arrange a collection from your house on a day that is convenient for you. You won't need to print any label as Royal Mail will bring this with them when they come to collect the puzzle.
/** * @var $module \Ucraft\Module */ ?>
Best Subscription EVER!

"I love, love love this subscription. I have completed 3 puzzles in the past month. We are always looking forward to our next puzzle. I got my parents to actually enjoy putting a puzzle together."

- Joanna Patrick

Julianna Arnett

I LOVE this subscription program. Not only is it super easy to receive and send the puzzles back once completed, but there is so much variety in the types of puzzles sent as well. I'll admit I was hesitant at first to sign up but I'm so glad I did! I get to feel that Christmas Morning feeling every time I get the email my puzzle is going to be delivered

So much fun

We absolutely love puzzles and the variety we get is fun and the puzzle look great. We have done over 5 puzzle and just love it. I recommend any who loves to puzzle to get this. Never missing pieces and its just cheaper than buying puzzles and storing them.

- Paul Singh

Linda Fife

This is a great service - I love doing puzzles but was fed up with all the dust and clutter from collecting them, not to mention the expense! Finding this an easy way to try new puzzles at my own pace, and the customer service is excellent.

Loving it so far

I've really enjoyed it so fun. Puzzles are fun to do with my 5 year old granddaughter, spouse, and by myself. I really enjoy the variety of puzzles with fun photos. I am glad I can get new puzzles and not fill my house with them when done. Better than charity shops because of quality and no missing pieces.

- Claire Brown
Get £10 off your first month by subscribing below (limited time offer!)
(check your spam folder for the discount code)